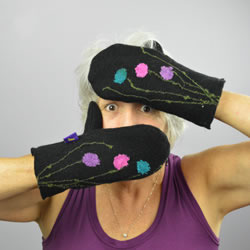 Mary Beth, CEO
Creative Energy Organizer
"The Instigator" - Much like her mother before her, Mary Beth comes up with crazy ideas, initiates them, then inspires so much excitement she brings everyone around her into them! She loves to "thrifty shop" and is often seen driving with a car full of interesting finds, fascinating materials, fun colors, patterns and textures that are awaiting incorporation into new creations.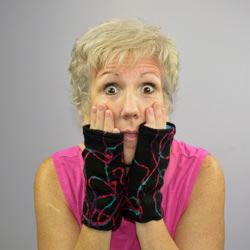 Nona, DFF
Director of Fun and Finance
"Miss Ellaneous" - Nona is good at everything she touches which reminds us a lot of our mother. Like our dad, she plays a killer game of golf! Nona's energy, ideas, marketing savvy, and optimism have been a great boon to our business. Best of all she cooks for the rest of us when we won't take the time.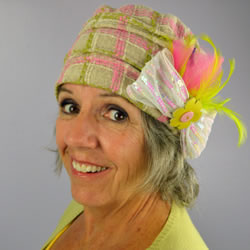 Peggy, PHD
Professional Hat Decorator
"The Goo Gah Queen" - Our mom always had the ability to walk into a room, move something a few inches and make the whole room look more interesting. Peggy is known for putting the small, finishing touches on our work that make a big difference. She has a knack for adding a color or form to our creations that no one else would think of and is referred to by us as "The Goo Gah-Queen."